On the surface I look like your average 20 year old uni student who likes to have a good time — maybe a bit too much! — but you may not notice that I was born profoundly deaf, which means that I am completely deaf and cannot hear anything.
This is different to being hearing impaired, where you generally have some natural functional sound, just at a reduced level. To help me hear I am lucky enough to wear one cochlear implant on my right ear, which sits on the outside of my head and stays on because of a magnet attached inside my head. It's pretty funny as sometimes my hearing aid will randomly attach on to a metal pole and I'm momentarily wondering why on earth I suddenly can't hear, only to find my implant a few seconds later.
Want to know how they work? Here's a link to a video that explains how cochlear implants function and it even shows you what the world might sound like if you were wearing one. It can be quite hard describing what my hearing or lack of it sounds like to people who have never experienced it for themselves. I describe my natural hearing state (without my implant) as being like muting the volume of the television and having no captions, but instead of it being the TV it's your whole life.
Many people believe that a cochlear implant is a magical cure where someone will automatically have perfect hearing. This is not the case, I hear 50-80% of sounds with it on so the worst case scenario sounds like someone underwater and best case scenario sounds like someone covering their mouth, muffling their words.
No one really knew what happened or why I became deaf. For ages I found it really unfair and wondered "why me?" When I was younger, adults would tell me that the fairies who helped create me were too busy having a cup of tea and forgot to make my ears properly! Now I've realised that sometimes we just get dealt whatever hand we get dealt and have to make the best of it. Overall, there are pros and cons to being deaf, just like many situations in life.
Pro #1. I know how to lip-read! It's a super power really.
When I was younger, I had to learn how to speak and had countless years of speech therapy. I didn't speak my first word until I was three years old and wasn't confident speaking until I was 5 years old. I would watch mouth movements for hours in the hope that I would learn how to speak. Not only did it teach me how to speak but also how to lip read — talk about killing two birds with one stone! When I was younger, one of my favourite games to play with my family was to pretend that I could hear them when I had my implant off, but really all I was doing was lip-reading. Unfortunately, my lip-reading is restricted to reading only one person at a time, so I got caught out pretty quick. Nowadays, it's a good dinner party trick, where I take out my implant and lip-read whoever is talking. Impressive when I get it right but hilarious when I get it wrong. It's cool to have a trick nonetheless!
Con #1. Listening is exhausting  
Have you ever sat in a lecture or classroom and had to listen to a teacher, with a heavy accent really far away, and concentrate super hard to understand what they're saying? Imagine if you had to do that all the time. You'd get pretty tired, pretty quickly. That's what it's like for me in any situation where I have to try to hear. It was particularly difficult when I was in school, as students are often expected to get every piece of information and memorise it. This was incredibly tiring and unfortunately, you can't remember information that you didn't hear. This exhaustion can also be very socially isolating as I found I couldn't be around people and listen to a conversation for hours on end without getting too tired. Luckily it's gotten much easier as I've gotten older because using the cochlear is like using a muscle. It's tiring when you initially start but it gets easier with practice.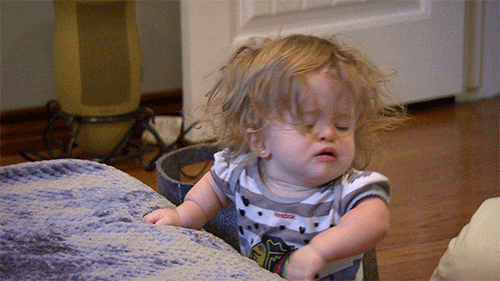 Pro #2. Selective hearing
Selective hearing is a big silver lining when it comes to being deaf. I think many people have been woken up at 5:45am by garbage trucks or have struggled to sleep when someone snores. Luckily for me, I don't have that problem and can just enjoy a good night's sleep! Plus it is rather peaceful having the opportunity to literally switch off (pun intended) and unwind. It also provides a great excuse to get out of awkward social situations. Like when you walk past a frenemy you haven't seen in five years. You know you should say hi but man it's awkward, luckily if I walk past someone they just assume that I can't hear! Crisis averted.
Con #2. The stigma surrounding disability
For me, it is not the deafness that has been the hardest part of my life but society's reaction to it. I really struggled with the expectations placed on people living with a disability and for a very long time I found it really crippled my ability to live my best life. I was either expected to be the inspirational poster child and be perfect, or on the flipside, people would see me as tragically dysfunctional and unable to do anything. Most people are shocked to discover I like to hit the clubs, but man I'm 20 and I enjoy it just like anyone else would! I have no problem using my story to help others and communicate that anyone with a disability is real and human. People often think that if you are deaf, then you must be dumb. Just because my ears don't work doesn't mean that my brain doesn't. Ultimately, we are all human with our differences and own realities. This is not a bad thing and the world would be super boring if everyone was the same!
It is challenging being deaf and of course, I have days where I wish I wasn't deaf. But it has made me resilient, adaptable and determined to live my best life, and for me that is huge. I have had the chance to meet some great people and see the best in many of my closest friends. Having a disability definitely weeds out the less genuine people. Honestly, I couldn't imagine not being deaf as it is a part of what makes me who I am.
Banner image via Deaf Children Australia