In case you've been living under a rock, in June this year a 40 year-old woman from Tasmania known for her work in shows like Please Like Me, Adam Hills' Tonight, and years of stand up comedy, suddenly took the Netflix Comedy Special world by storm with her show, Nanette.
This was no ordinary special.
Honestly, I didn't know what to expect when I watched it. I hadn't seen any articles about it, heard any commentary, or even realised that it was rapidly becoming such a big deal. Instead, I just saw it repeatedly appear in the 'Top Picks for Nina' and the 'Trending Now' sections of the Netflix guide — which as a side note, I really don't believe that Journey to the Centre of the Earth is trending now. Although a little nod to Brendan Fraser for trying to keep the adventure alive for us all.
But holy moly, it took me at least two weeks to pick my heart up off the floor — not something I ever thought could come from watching a comedy show. And that's exactly how you should go about watching it: totally unprepared.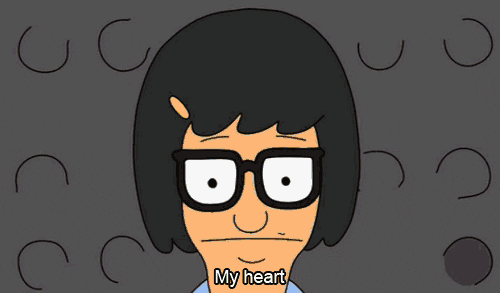 Before you dive in, it's important to be aware that some of Nanette covers some sensitive content around LGBTIQ+ issues, gender, violence and sexual abuse, which may be confronting for some viewers — so please make sure you have appropriate support available if you choose to watch, and if you find you need further support please reach out to Beyond Blue (Ph: 1300 224 636), Lifeline (Ph: 13 11 14) or Headspace (Ph: 1800 650 890). If your life is in immediate danger please call 000.
Nanette is a massive 'stuff you, I'm out'.
Hannah is tired. She built a career around what she describes as humiliating herself, and is sick of being the scapegoat. This doesn't come as a surprise. Years of being told you are abnormal as a queer woman will do that to a person, both by society's standards and in the eyes of the law (Tasmania had imposed the harshest penalties in the Western world for homosexual activity until 1997, and was the last Australian state/territory to decriminalise homosexuality).
Hannah defines comedy as a balancing act of creating tension and then providing relief. But with this, an unequal power dynamic between the performer and the audience ensues. The comedian crafts an uneasy environment, places the audience in difficult or distressing situations, and then at their own leisure, provides relief with a punchline, allowing the audience to rapidly laugh away the pain of a tense moment. She points out that this is rather like an abusive relationship.
And this is an abusive relationship she has with herself. Having spent such a long time using her own identity as the punchline or the relief to that tension, Hannah bares for everyone the bruises she has collected and the toll this has taken on her mental wellbeing. She has become a master of relieving tension because she lives in a world that doesn't forgive her for her differences. If you can't learn to laugh what can you do, right?
As a friend of mine wisely said 'We spend our lives making ourselves as small as possible to move through the world safely.' But Hannah is done with being small and safe. She wants her story to be heard, because there were no stories like this for her when she was growing up.
Underneath it all, Hannah provides really incredible insight for any viewers who maybe know very little about the experience of people living in the margins of society. She uses anger, emotion, wit and logic to shut down many of the common arguments she faces as a non-heterosexual woman.
She takes the audience through vivid accounts of some of her most traumatic experiences, that have taken the form of homophobic discrimination, violence against women and bearing the brunt of male privilege and unsolicited advice she receives about her life. Eventually Hannah stops relieving the tension with jokes. She lets the pain and uncomfort sit with the audience saying it belongs to them now, and she's not going to help anymore.
Nanette is a comedy gamechanger. Comedy has always been a tool for social and political commentary. It's a channel for interrogating power and the way the world works — we make comedy out of the actions and decisions of world leaders, we make comedy about places, people, food, love, families, cultural heritage, sex, gender, religion, environments, actions, and just about anything life can throw at you.  
I think one of the lessons here, is that comedy, and art in general, both provide a platform for commentary, despite replicating the same inequalities that are rampant in broader society.
So, Hannah Gadsby — if you're out there reading this — can I just say thank you for reminding me how powerful pain and anger can be? You pulled off the biggest and boldest rage quit I have ever seen, and it has inspired a new drive in me to be loud and take charge, and call out BS when I see it — something that has been missing in my life for some time.
And seriously, to everyone in my life, whether it's at work, in my family or among my friends, or anyone reading this: please take the 1 hour out of your day to get uncomfortable with Nannette because you'll come out the other side stronger, wiser and questioning everything.
If you take away anything from reading this article, it's this: just bloody watch it.