Sponsored
Let me just say, receiving advice is pretty weird. It's almost like the person giving you advice is telling you specific instructions of what they wished they did or didn't do in their life. This can sometimes leave you wondering why it's even relevant to you, like my grandma insisting to not drink the sauerkraut juice left out in the summer heat. "Of course, but…?"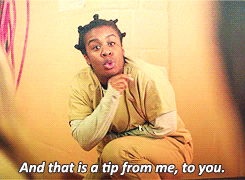 After countless one-liners from parents, friends, well-meaning strangers and every blog post about coming of age lessons, choosing a direction and making big decisions about school, studies and life I think I've heard it all. So I've compiled my list of the 4 common pieces of advice I've received for figuring out what to do with my life. But this time, with commentary and usefulness ratings.
"Pick subjects you're good at"
This one is pretty interesting. It's an obvious nugget of advice to pick the subjects you're good at and probably have an interest in for happy future prospects.
But let me also squeeze this thought in for consideration — When you have the opportunities to try new sports, or explore weird subjects at school, TAFE or uni, why not take them?  Let's not forget that learning is a really exciting and challenging process, but also a way to discover if you're good at something. How would you know if you have never tried it?
I rate this 3 out of 5 sauerkraut jars.
"Look at this list of careers. Pick the one you like."
This advice from the careers counsellor at my school was problematic. It was extremely overwhelming to look through job descriptions and just pick something, feeling that I'd be stuck to this decision for years to come.
It's a little bit silly these days to see careers as one set direction because conditions have changed quite dramatically and so have we. Did you know that you are likely to have 17 different jobs across 5 different industries in your career? Or that 60% of jobs in the future, haven't even been created yet!? So, for those of you who have been told this piece of advice and felt overwhelmed I offer this exercise instead: Find a cluster of work that matches your passion.
Then you could find an entry level job to build some experience and know-how.  You could find someone who does something similar to chat about what it's like and what advice they have for first steps. Check out what courses give you the skills for the role, or if there are traineeships or apprenticeships on offer to study and earn some dollars at the same time. When you're ready to move on to your next endeavour just remember to be open to re-training and re-skilling of those technical skills.

I rate this 1.5  out of 5 sauerkraut jars.
"Do what you love and everything else will follow"
This is my favourite piece of advice anybody has offered me. Think about your interests and the things you absolutely cannot wait to do once all your responsibilities are done. That stuff, that's passion and that's something special. Firstly, it's really good for your mind to decompress from school or work but also you're becoming an expert in something special to you. If that's cooking, writing, making things, tearing objects apart, learning languages or whatever it may be. If you can identify those, then searching for courses and ways to get experience is that next step closer.
It could be something you do on the side, or dabble in to try out. VET qualifications are a great way to get know-how, without the 3 year commitment of a degree.
I rate this 5 out of 5 sauerkraut jars.
"You don't have to have all your life plans figured out."
I can tell you exactly what I knew I would do when I was 14.  The world seemed kind of unlimited at that age, and I was sure to make it that way.
There was so much I wanted to do see, try, know, be, and explore. I hated being boxed by the "what are you going to be" question. As if there is a simple answer to that.
I had to make sure anybody who asked me that knew they were in for an elaborate answer.
"First I'm going deep into Rwanda to save gorillas from poaching. Then I'll become a reporter. In my mid 40s I'll have a career change, go to uni to do astrophysics or become an astronaut. When those space missions are done, I'll just travel the world until I get tired."
3 weeks after I had declared that, I decided that in fact my destiny would be in breeding puppies.
So some dreams were a bit unrealistic and others were maybe a little impulsive.
The point is, we change our minds, we figure so many things out about ourselves along the way, that the expectations of having it all "figured out" is just unrealistic. My parents are 60, they're still figuring it out. I can tell you now, I'm currently in my dream job for right now and this article is not being written from a tree-top shack in the Rwandan jungles.
I rate this 5 out of 5 sauerkraut jars.
So when it comes to all the advice we receive for choosing what to do for our future careers, there's a lot out there. Some of it super useful, and others you have to take with a kilo of salt.
---
FYA partnered with the Federal Department of Education and Training to highlight the real stories behind young Australians navigating the world of work, especially those taking up VET pathways. The How I Got The Job series shows just some of the many different options out there.