Sponsored
When you hear "The world of work is changing", "disruption" and "the fourth industrial revolution" does it make you feel a little overwhelmed? That's totally normal. But also pretty frustrating if you're trying to choose high school subjects or university and TAFE courses that feel like they will lead you to a particular career. What if the job doesn't exist anymore by the time you get there?!
Read on to find out the biggest predictions in how work is changing and what that will look like so you can go into those subject selections and job applications feeling more like this…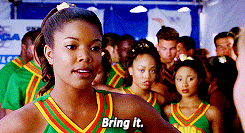 You'll likely be working in flexible arrangements
Think Uber. All this talk of "disruption" is mostly around technology bringing down the barriers of access to work, information and networking with people. What does this mean? You'll probably be working for lots of different employers on different projects, rather than the old 9 to 5. Ever heard of the gig economy? Basically that! Casualisation of the workplace essentially means you and your boss will have a more 'no strings attached' kind of dynamic rather than a permanent kind of job placement. Kind of like Uber where drivers can opt in to find work, and work the hours they choose. You may have heard terms like subcontracting, self-employment and freelancing which are just a few ways people describe their titles in the gig economy. It can mean a lot more freedom, but it can also mean you really need to understand your rights and responsibilities as a freelancer. More on knowing your rights here. 
Take Jarrad as an example, he started freelancing in web development and graphic design 8 years ago. Building up a big portfolio of work and a bunch of enterprise skills in networking, communication, project management and business administration he has since grown his freelance work into a web development agency that employs two other people. He still works on a project to project basis, but in time things have become way more consistent now that he has regular clients.
This is particularly true for people working in the Tech cluster, Informers cluster and Designer cluster.  
Woah woah woah. Cluster?! (see #2)
Your skills are more related than previously thought
FYA did a heap of research around the future of work and found that jobs are far more related than once thought. In fact, when people train in one job they develop skills that are useful in several other jobs, even ones that you'd think aren't so connected.
For example, if you work as an architect, you may be doing a bunch of design work but you also develop skills in project management, working with detail, construction and collaboration. All of these are vital skills you'd need to be a building inspector and construction project manager. So, by having a broad skill set to transition between various roles, we found it's best to think about clusters of work rather than a one track career. It might just take a small amount of retraining on the technical skills, but you'll likely have some very transferable skills across jobs!
Take Rachel, she had nearly finished her mechatronics engineering degree, but realised that in fact she wanted to do aircraft maintenance engineering. So she took up an apprenticeship, after 8 years working for Qantas she went back to TAFE to retrain for a business development job. Now she travels the world recruiting the next generation of aircraft maintenance engineers. She not only transitioned within her cluster, but also between clusters with her overlapping knowledge of aviation. You can check out all the clusters in this very handy infographic here. Or you can go one step further and take our quiz to figure out which cluster you might be interested in pursuing a job within.
There are some ways to protect yourself in the face of automation
As we know, the world of work is quickly evolving. In Australia, some 40% of jobs are estimated to be highly affected by automation in the next 8 to 13 years.* That's straight from our New Basics Report.
And as we've discussed, jobs are also becoming increasingly portable. So what do you need in that survival pack of yours? Skills & experience. If you can identify some of the skills you use and learn through study and experience and keep building upon them, damn, you're a steaming hot pot of potential! Apprenticeships and traineeships could be a good way to go about it as you get paid as you study and work.
As you'll be on a trajectory of constant learning and upskilling along the way, it almost takes a bit of the pressure off knowing exactly what you're going to do for the rest of your life right now.
You'll probably adapt without even realising it anyway

We've all been hard wired for adaptation and resilience. If you're human, your DNA says you can do it (don't believe me? Check out neuroplasticity). And finally, 66% of the jobs of the future haven't been invented yet. So why worry about not knowing what you don't know. You'll know when you know.
Just think of how much work has changed with the introduction of digital technologies already. Sure, it's been a transition, but now most of us walk into work and go about our days. Often in jobs that didn't exist 5 or 10 years ago! Think things like Social Media Marketing Manager and Data Analyst. Even jobs that did exist before have changed pretty drastically in terms of the day to day activities that person does. Just like someone who works in PR or even Mechanics.
---
FYA partnered with the Federal Department of Education and Training to highlight the real stories behind young Australians navigating the world of work, especially those taking up VET pathways. The How I Got The Job series shows just some of the many different options out there.