Sponsored
Getting your foot in the door for those first job opportunities can be difficult, competitive and confusing. And often, even more so in the creative industry. How do you even start? And how do you set yourself on a path to a job you want one day?
More and more employers across industries are seeking people with creativity. In fact, between 2012 and 2015, demand for creativity went up by 65%. It's a useful skill to have that you can apply in just about any job. But what about those jobs in really creative fields? From the outside, these industries can seem especially hard to break into. We asked a video producer, set designer, graphic designer and motion graphic artist for the best career advice they've ever received and what they studied to get to where they are now.
Brigid, Creative Producer in video and film, VIC
"You can learn anything. The best way to go about it is through project-based learning. If you want to learn how to record audio, then set yourself a podcast project and learn by applying the skills. If you want to learn to build a website, then set yourself the task of a real website. Instead of hypotheticals, you can set yourself passion projects that enable you to learn through the process.
Also, think about the creative expressions that only you can make. Think about the insight and perspectives that are unique to you. For example, I'm vision impaired.  A lot of people would think it doesn't lend itself to filmmaking. Instead, I like to think I have a unique way of seeing the world and filmmaking is the way I like to express it. So, the experience of having sight loss has led me to this idea to create a VR piece to demonstrate different types of vision impairment and blindness. We tend to think our unique perspective is boring, but in fact it's really interesting when you hear something really true. Maybe you've heard the saying 'The more specific the more relatable'? People connect to the everyday things in life.
Another piece of advice that has stuck with me was from a friend who runs a podcast, hosts a program on Triple J and acts. She says to find yourself a network of dream believers. She says that there are dream believers and dream stealers. When you come up with an idea, people will tell you it's hard to make money, to be successful, to make it happen —  it's important to find a group of people who will support you, collaborate with you and say "yes and". Also, be the dream believer to your friends. Keep them close, they will inspire you, and make you feel motivated to do more. They will motivate you instead of telling you all the things that will be hard.
Brigid is a freelancer and creative wizz who has worked on short films, apps, exhibitions, data visualisations, communication strategies and now wants to do more in VR and audio. Brigid studied Film & Television at Victorian College of Arts specialising in writing and directing. She is interested in the intersection between storytelling and impact and how stories have the power to bridge empathy.
Jon, Senior Designer at Channel 9, WA
The biggest thing to make a career that sees longevity is to be resourceful, be flexible and be tenacious. You're going to cop knockbacks, there will be those times when things are rough but you have to keep along with it. When students come through my workspace now, often there's a feeling that you have to be doing exactly what you want to be doing or else it's pointless. That's a damaging mindset. Keep in mind that things are transferable. Working to deadlines, briefs, practising your communication and problem-solving skills — all [of] these things are valuable. When you are coming straight out of uni, college or TAFE it's likely that you won't find exactly what you want to do, but find the stuff that flexes those skills.
Finally, you have to maintain your knowledge, constantly be learning software techniques and building upon the skills you already have. Maintaining focus on self development in this space is something you're always going to need to strive towards. And also tell the client you can do stuff. I think it was Richard Branson who said always say yes and work out the how later.
Jon is responsible for designing illustrations, motion graphics at Channel 9 and does freelance work on the side. Jon studied Diplomas in Design for Industry, Graphic design, Film & Television at TAFE for over 2 years. He also completed a Bachelor's degree in Photography and Illustration.
Sebastian, Production Artist & Presenter at Channel 7, NSW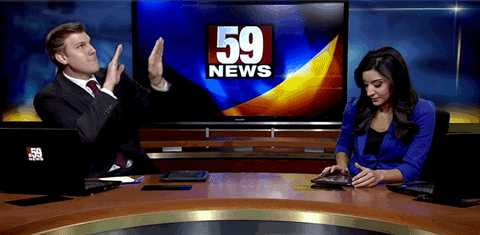 I think now you have to be flexible. It's not about training up and picking a path, you've got to be able to go, "well there's no work doing this, so how about I do this and move here." Basically, [you have to be willing] to shift and flow where the work goes.
You should start building your networks when you start training. I found that when I started treating TAFE as a job opportunity, I was getting internships and outside opportunities to do things like workshops and odd jobs through teachers. Every opportunity you get can help you reach the next.
Sebastian is a freelance production designer for Film and TV, he makes art installations, sets up spaces and presents 2 shows for channel 7 about making cool stuff for kids. Sebastian studied a Cert IV of Fundamentals of Design, dabbled in Interior Design and finished his studies off with an Advanced Diploma of Design for Live Production Theatre and Events at TAFE.
Arianna Callejas, Graphic Designer at a Melbourne based Design Studio, VIC
If you don't have the experience or portfolio, it's pretty hard to start out and get jobs. When you're starting out, find some place to volunteer and get experience. You might have a good portfolio coming out of Uni or TAFE, but by getting some experience in the workplace you have access to contacts, to see how things are done and references for the next job application. Obviously, you can't volunteer forever. If you're taking on too many responsibilities [in the role] then you should ask for position opportunities. Keep in mind what your gaining — [whether it's] the value of the skills or [adding to your] portfolio.
Second, speak passionately about the work you do and the things you do. When people see that you are passionate you can be surprised how many jobs you can get by word of mouth referrals. Most creatives are passionate about what they do, but when you show it that goes a long way.
Finally, be professional. This is really obvious advice but be punctual, pay attention to details, ask questions, make the most out of opportunities, and express your originality. Be a bit different — you want to make the solution stand out.
Arianna loves to make things beautiful. Her title says Graphic Designer but that includes anything from website design, illustration, publication design like magazines and books, to being the imagination machine of brand design.
Arianna studied a Bachelor of Communications Design majoring in Graphic Design.
---
FYA partnered with the Federal Department of Education and Training to highlight the real stories behind young Australians navigating the world of work, especially those taking up VET pathways. The How I Got The Job series shows just some of the many different options out there.