When I think of LinkedIn, I think of a lot of people talking about how important they are, complementing each other on their promotions and writing really long posts about the wisdom they've gathered on their career journey.
It's an odd thing, but regardless of if you like it or not, LinkedIn has become an essential tool for ambitious job seekers. Hey! That's you!
Like every other form of social media these days, your LinkedIn is most likely being carefully reviewed by recruiters and hiring managers. If you're trying to land your first "real" gig in an industry you love or you're in the early stages of your working life, it's well worth while making sure you present the best possible version of you. Here's how to do that.
1: Have a killer profile pic
As the age old saying goes: "If your profile pic makes you look like any standard Bob, you ain't gettin' that flippin' job".
The best style of profile pic is going to depend on the industry you're trying to get hired in. If people in your field typically wear very professional attire, say at a big accounting practice or legal firm, that's the gear you should be wearing in your profile picture.
If you're looking to get recruited by a creative agency or land a role in the arts world, you have a bit more room for creativity with the profile pic.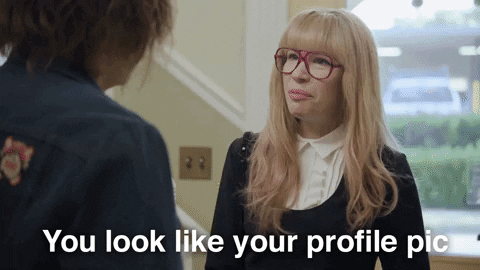 Regardless of the industry, keep the pic clear, high quality and recent. It's also a pretty hot tip to take a picture exclusively for LinkedIn rather than pull an existing pic from Facebook. It shows that you're serious about your work life.
2: Fill out every section possible
If you're creating a profile for the first time, LinkedIn is going to ask you a lot of questions about your education and experience. Even if it feels like an endless avalanche of typing, it's best to not leave any of this stuff blank. A full profile shows you're dedicated to your career and that you know what you're talking about.
However, just because you're filling out every section of your profile doesn't mean you need to write essays worth of content. It's best to summarise your experience and education in just a few sentences each. People just straight up don't have the time to read your every thought and achievement. Sorry!
3: Use an appropriate headline
When it comes to what you write as your headline, there are a few differing opinions as to what you include.
About half of the LinkedIn crowd will prefer to just pop in their current job title while the other half prefer to weave it into some kind of overarching theme of their work. Personally, I've gone with the second option. It makes more sense to be a bit more creative with your headline if you're looking to land your first "proper" gig in a field you've been chasing for a while, as you might not yet have the job title you would want to display. Either option can work, just be sure to consider your circumstances and what will help get you to where you want to be next.
Using my own profile as an example for a second, I work as a content producer in the non-profit sector, but I can say a little more about my personal goals by having my headline as "Driving social change through digital content." Easy!
4: Orient your profile summary towards "here's what I can do for you"
LinkedIn can be a bit of a brag-a-thon and to be honest, it's exhausting. Anyone can make themselves sound important if they use enough big words, but important people aren't what employers are looking for. They're looking for people who can get sh*t done.
You can capitalise on this by focussing the language of your profile on what you can do for that lucky someone who hires you.
So instead of "I run events like an absolute boss and am so good at creating marketing strategies that others should be embarrassed" try something closer to "my events management skills allow me to manage successful fundraising events and my marketing strategies create increased demand for products online, while ensuring company budgets are maintained." Oh my gosh! I'd hire me!
5: Follow people you admire
Now your profile is looking schmick, find people with jobs you want, then follow them. You can follow people without asking them to connect, so don't worry about coming across as a stalker.
See what updates they have, what other pages they follow and what their career path to get to where they are. If you're feeling extra brave and have met the person once or twice IRL, you could even ask them to be a career mentor for you.
As a word of warning before you go on a clicking and stalking spree, LinkedIn will tell you when people view your profile and will also tell others when you view their profiles based on your settings!
6: Update your skills and interests
You probably already know this, but once you have created your LinkedIn profile, you can access the LinkedIn jobs board. It does a pretty fantastic job of recommending jobs based off your skills, interests and which companies or organisations you follow. So make sure you've put in the time to thoughtfully select a few key skills that closely align to your area of work. People you work with can also endorse your skills, which goes a long way to show that you actually know what you're talking about.
7: Check in every now and again
Like all social media, LinkedIn's feed runs on an algorithm. If you want to be seen as actively using LinkedIn, contributing to conversations and generally engaging with others in your field, you actually have to engage with others in your field. So log in every now and again, read a few posts and like your favourite ones. If you want to go the extra mile and really get a few eyeballs on your profile, you can write an article about an eye opening experience you had in your career. LinkedIn has a fully formed publishing platform where users can write articles on their experiences in the workplace. There's definitely a bit of an art to it, but we tracked down 10 solid tips for getting started.
That's it, that's LinkedIn. If you're new, it can feel like a bit of a weird platform. But if you're ready to jump into some digital networking, it's an undeniably valuable tool.