I moved to Bondi Beach last summer to do some writing work for a guy called Dave. He owned and operated a small private gym in country NSW before relocating to Sydney and putting his entrepreneurial skills to the test.
He wanted to share what he learnt working in the fitness industry and encourage both young and old to pursue "passion over worry." His energetic tagline involved punching the air and shouting "POW!"
Dave and I were the same age (27 at the time), so I was both surprised and sceptical when he gave me life advice with great assertiveness. Some of his suggestions seemed harsh and unreasonable. At times I thought "how dare he, he doesn't know me". I was irritated by how sure he was of himself. If I didn't agree with what he had to say, I so badly wanted to prove him wrong. In hindsight, I think his confidence irked me because I wanted to be that sure of something.
During this time Dave lent me a book called What To Do When It's Your Turn By Seth Godin. He said it changed his life, which I thought was an exaggerated claim to make. I agreed to have a read out of politeness, but I planned to do so half-heartedly.
By about page 10 I was hooked. I stopped focusing on the book's peculiar formatting and began pondering Godin's simple, yet potent messages. The words and images made me think. Really think. One page could snap me into a contemplation daze for hours. The extended title (bracketed) on the cover is what really shook me: What To Do When It's Your Turn (and it's always your turn).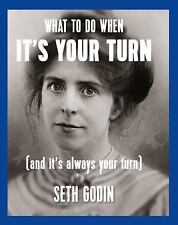 Through reading this book, I recognised one of my biggest barriers to my own success was being hypercritical of myself. I might seem like someone who puts herself out there, but unbeknown to most, I heavily vet my creations, ideas and opinions in fear of judgement. Often I don't pursue things I'm most passionate about for fear of failure or judgement. I'm my own worst critic. Godin's musings helped normalise this feeling and put some much needed wind back in my sails.
Almost a decade ago, I wrote and illustrated a children's book for a TAFE assignment. I called it Noonie and the Missing Bone. It was a fictional story based on my pet dog and cat, incorporating various aspects of my everyday life. Friends and family who read the book encouraged me to seek out a publisher, but I kept putting it off because I didn't think it would be accepted.
When I went on to study primary teaching, I used it as a resource to prompt creative writing. Each time I used the book in a lesson, I noticed the impact it had on students who were usually the most reluctant to write or draw.. However, after quite a few years, when the book's binding began to split, I took it as a sign the story had run its course. I packed it alongside a Tupperware container of shells and a vintage Scrabble set.
I kept Godin's book on my night stand while living in Sydney. The cover taunted me each morning as I reached for my phone. Eventually, probably due to a mix of Dave's positivity and the constant reminder that maybe it was time to take my turn, I decided to self-publish my book online.
I posted an advert in the IT section of Airtasker to get someone to create an eBook widget for my WordPress site. Within a week, I was announcing on Facebook my eBook was available for download. Of course Mum was my first customer.
I then set to work on developing a writing program for schools to go with it. I was a student who received mediocre marks in English, and they sat with me for years after I graduated. I wanted young people to recognise they all have a creative story like mine within them, but often it's covered up with self-doubt.
When an education organisation called ASG heard my intentions, they wanted to offer their support. They re-published my book and became official partners of the writing program.  Recently, I also found out my book will feature in Scholastic Book Club.  Those who grew up in the 80s and 90s will surely understand my uncontrollable excitement.
Before I became one, I thought published authors were shinier versions of myself—more intelligent, more creative and likable. As far as I'm aware, I haven't developed those traits overnight.
Turns out, Dave was right. If I pursued passion over worry great things could happen. If it weren't for Dave, his crazy POW mantra and forcing books on me, the original copy probably would have sat pinned up against the burgundy Scrabble box until the next power outage/thunderstorm combo. Thanks to the digital era, self-publishing and putting myself out there I got to pursue my passion. POW!(thanks @davepowtabain)
In the words of the acknowledgement pages of the book: Dave, you inspired me to pursue passion over worry. Thank you for motivating me to "take my turn."
—
You can learn more about Casey's Australian school writing program or even buy your own copy of her book here.