Australian media has turned its lens to young people, but this time they're handing over the cameras too. With two new reality series on Australian TV this year, it looks like we're more curious than ever about capturing the "real lives" of our nation's teens.
My Year 12 Life gets students to regularly check in to make webcam video diaries while Bullied equips teens with hidden backpack cameras to capture confrontation at school. So, while these shows explore relatively different themes, they have something in common: the young people control what's recorded.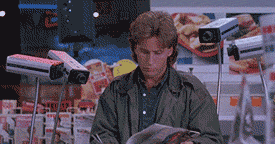 Both are being rolled out by ABC and available on the catch-up platform iView — so you can return to episodes and watch them in your own time. Here's a snapshot of each program (from the ABC):
My Year 12 Life
In 2016, we gave cameras to fourteen students from across the country. They documented the raw, intimate, unfiltered drama of their final school year. No rules, no teachers, no parents. Just their story, seen through their eyes.
Bullied
Presented by Australian sporting legend Ian Thorpe, the issue is tackled head-on as bullying victims gather video evidence to present to their classmates in an effort to resolve a bullying situation. With identities concealed, the footage is shown to the victim's peers to help them understand the impact the bullying is having, and how they might work together to stop it happening.
So where does this interest in exploring teenage lives through their own eyes come from? With the ever-rising presence of social media, young people's voices are louder than ever — and people want to listen. Rather than waiting for adults to pick up an idea or an issue and make an observation from the outside, young people have an opportunity to start sharing their stories with raw honesty, and lived experience.
It's interesting, and at times quite confronting, to watch young people enter incredibly vulnerable states that aren't necessarily posed or scripted. My Year 12 Life really opens up the discussion about whether a "one size fits all" approach to education is really of any benefit, and whether the pressure we place on our final score is proportionate to the options we have when finishing up at school.
Bullied is yet to air, but we can guess that it'll also pose some pretty sticky questions. Most of us know what bullying is and how to spot someone doing it. Many of us have even endured it. But what's the best way to call it out, step in, and make a long-lasting positive impact? Hopefully these kinds of programs will make way for broader discussion, explore a variety of perspectives, and highlight how young people in Australia are actually feeling.
Stay tuned. Let's make way for more young Aussies getting real on TV.