It's been the hottest topic since we turned 5 years old and most likely it still is. The unavoidable life question: What do you want to be when you grow up?
So what do you actually want to be when you grow up? Maybe you already have your answer. Kudos to you!
But for me, and perhaps many of you too, this question still causes some serious anxiety. It's the question we have all been forced to ponder since our childhood and is the forefront of all grown-up conversations.
Have you ever felt like you just have too many interests to find your one true calling or dream job?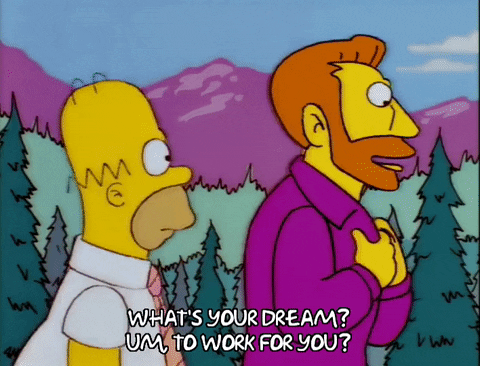 There might be a lot of different subjects that you are curious about and many different things you want to do. This may leave you feeling like you don't have a purpose and it might feel like there is something wrong with you. But there isn't! Maybe you are a multipotentialite. 'A what?!' you say — a multipotentialite is someone with many interests and creative pursuits, instead of just one single life calling.
Today we're faced with an overwhelming array of options and opportunities. So when someone asks, what do you want to be when you grow up, you don't exactly feel like you can reply with 20 different things. Actually…why not?
In her TEDx talk Why Some Of Us Don't Have One True Calling, Emilie Wapnick explores this idea and gives three compelling reasons why we (us multipotentialites, that is) are actually ahead of the game and in a position to create something truly unique. Have a read (it might sound like you).
We're innovative because our passions and interests are often in varied fields we naturally see opportunities to take the good ideas from one and inject them into another.
We're rapid learners because we have spent our whole lives being beginners and learning new things all the time.
We're adaptable because the more times you refine who you are and what you do, the better you keep up with the world around you.
Check the full talk out here:
After listening to this, and also being pretty familiar with what a lot of people are saying about the future of work, it got me thinking. Maybe actually multipotentialites have an advantage. It seems like we might represent what the future of work looks like anyway.
You see, even though our grandparents and great grandparents may have remained in one vocation for 40+ years, that era is well and truly over. And most of us will be chopping and changing throughout our lives.
According to FYA's research (that's these guys right here), young Australians entering the workforce today might have as many as 5 different careers and make 17 changes in employers over their working lives. Turns out, instead of training to work in one particular area for the rest of our lives, taking our skills from job to job is more likely to be the norm.
So actually, it might be best to focus on skills rather than jobs.
Not so long ago FYA looked at 4.2 million job ads and found out some interesting trends around the skills needed for jobs of the future. (For real, you can check out the research here.) To break it down for you, it was found that  those who develop transferable skills — or enterprise skills — like communication, digital literacy and project management are those who will have an advantage in this new world of work. Legit! For example, job ads asking for presentation skills or digital literacy are already paying about $8K more.
So what's in it for multipotentialites? Further research has also shown that the jobs of the future are also probably more related than we might think. With a little technical training some of the skills needed for one job can be applied to another role which might have been previously considered unrelated. Say if you're not so keen on your current job as a journalist you could potentially apply your communication and research skills to a new role as a policy analyst. With a little technical training of course.  
So multipotentialites listen up! Rather than looking for one dream job, maybe we can instead think about a dream cluster where we match all of our fabulous skills and interests to a cluster where they are portable across different jobs.
Isn't this pretty much what we have all been dreaming of? We've even got a handy quiz to help you see what your ideal job cluster might be, here.

So whether you are in your final year of school stressing about what course to choose for University or enjoying all the overwhelming possibilities of your future career, own your multipotentiality. Have fun with it, build some transferable skills that'll really help you reach your multipotentiality (things like communication, digital and project management skills). And hey, just be honest next time someone asks you what you want to be when you grow up!