Sponsored
If the words "work mixer" send a shiver down your spine, read on.
If you're anything like me, when you hear the words "networking event" you can start sweating like Shaq at the foul line. The fact is networking has a lot of negative connotations for me and many peeps, but there are actually a lot of great reasons to build your networking skills and grow the circle of people you interact with.

For starters, people with stronger and more diverse networks generally live longer, are healthier and probably make more money (see more connections lead to more opportunities) than those who don't put the effort into their networks. Also, these days companies want to "hire and wire" meaning they don't just want your skills, they also want to tap into your networks. So knowing great people you can pull into your work is vital to help you land your next position.
With that in mind, here are some of top tips to take to your next networking event to help make talking to strangers about what you do a little less stressful and a little more beneficial to the ol' career.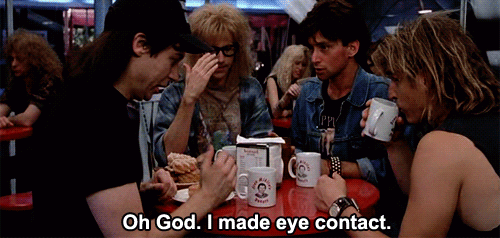 1: Think about what kind of person you want to add to your network
This is a A+ thing to do before any networking opportunity. Have a think about the kinds of people you know and where the gaps in your networks might be. As an example, if you know plenty of creative graphic designers, filmmakers and writers but no one with any marketing skills or nobody who runs their own business, then those might be the kind of relationships you want to seek out.
2: Ask questions and be a great listener.
Great business relations are made by switching your thinking from "what can I get from this relationship?" to "how can I be a benefit to this person?" Listening to other people and identifying where you can fill gaps in their work is the best way to make a new connection you can call on at a later date.
3: Talk to strangers.
If you keep talking to the same kinds of people at every event you attend, you're only going to have one kind of person in your network. That's bad news bears. You can't build a diverse network without talking to strangers.
4: Make weak connections, then develop them.
Weaker connections can actually be more valuable. If you think about it, you already know everything about your really strong connections, whereas your weak connections are still opportunities waiting to be explored and transformed into strong connections. You would be surprised at the amount of people you already know that have hidden skills and talents just waiting to be discovered.
5: Don't stick to the edges of the room.
This is one of the biggest mistakes you can make at a networking event, and one I've definitely been guilty of. Sticking to the edges of a room, sitting on your phone or seeming like your attention is focused elsewhere is a surefire way to turn people off coming up and having a chat with you. Be in the moment and shake someone's hand for goodness sake.
6: Remember, everyone is just as nervous as you.
So be confident. Remind yourself that what you have to say and contribute is just as valid as what anyone else has to say, no one really ever knows what they're doing. If you're struggling to be confident just think about how you only regret the chances you don't take! That usually helps to be brave and shake some hands.
Sponsored