Polling Day has been and gone and we still don't have a result. It's like rushing home to *legally stream* Game of Thrones and it's still not freaking ONLINE. All that hype, no pay off.
While you're twiddling your thumbs waiting for the results, why not peruse this handy alphabet of all the 'need to knows' of the 2016 Federal Election
A is for ABC
ABC election night coverage was the longest single coverage of any news programs with no break in Aussie history. Special mention to Leigh Sale's 'Suck on that Kerry O'Brien' upon realising they'd broken the record.
B is for Batman
Batman, the inner northern Melbourne seat still remains too close to call between the Greens and Labor, read more here.
C is for Cake
This House of Representatives Cake that democracy built OMG.
D is for Dogs
#DogsAtPollingStations were the real MVP's of Polling Day.

E is for Election night bingo
Election Night Bingo was the game of the moment. For official rules please consult your nearest Google.
F is for Filter
Liberal party Snapchat filter!? Apparently it's not all flower crowns and face swaps.
G is for Green's volunteer
A Green's volunteer was allegedly bitten by a Liberal volunteer at a polling booth in Higgins. This isn't The Walking Dead people, keep your teeth in your dang mouths. Read more here.
H is for Harambe
Harambe for PM! For one reason or another Harambe the ape received more votes than many experts predicted.
I is for Independants
These guys are super important because they will likely hold the balance of power in any government that is formed.
J is for Jobs and Growth
It was impossible to not hear about jobs and growth on election night.

K is for Kevin '07
Who did not make an appearance at this years election.
L is for Leigh Sales
Leigh took holding down to fort to extreme new heights on election night, keeping the ABCs election coverage balanced, informative and interesting. Props 2 u m8.
M is for My vote
Because your vote has never mattered more than the 2016 federal election!
N is for New candidates
New candidates were popping up everywhere on election day. Some of them received strong support despite not even running.
O is for O'Brien
As in Kerry O'Brien, who no longer holds the record for longest single coverage of any news programs with no break. Suck on that Kerry!
P is for Pauline Hanson
Who to this day refuses to try the deliciousness of a Halal Snack Pack.
Q is for Queues
Queues, queues, queues for everyone! I've heard crazy stories of people in Melbourne waiting almost 2 hours to cast their vote. There's that dedication to democracy that I love to see.
R is for Raging post election night parties
Which were held across the country on polling night. The Greens put up a vid showing how their post-polls shindig compared with Labor's.

S is for Snag
Shorten's Sausage Fail; the 2016 saga that was. Has he ever even eaten a snag in bread before?
T is for Twitter
Twitter was a top way to keep on top of all the data and conversations on election night. Still a great place to share your opinion with strangers on the internet. #ausvotes
U is for Undecided seats
There are still a few still hanging in the balance. You can keep up to date via our pals at the AEC.
V is for Voting fashion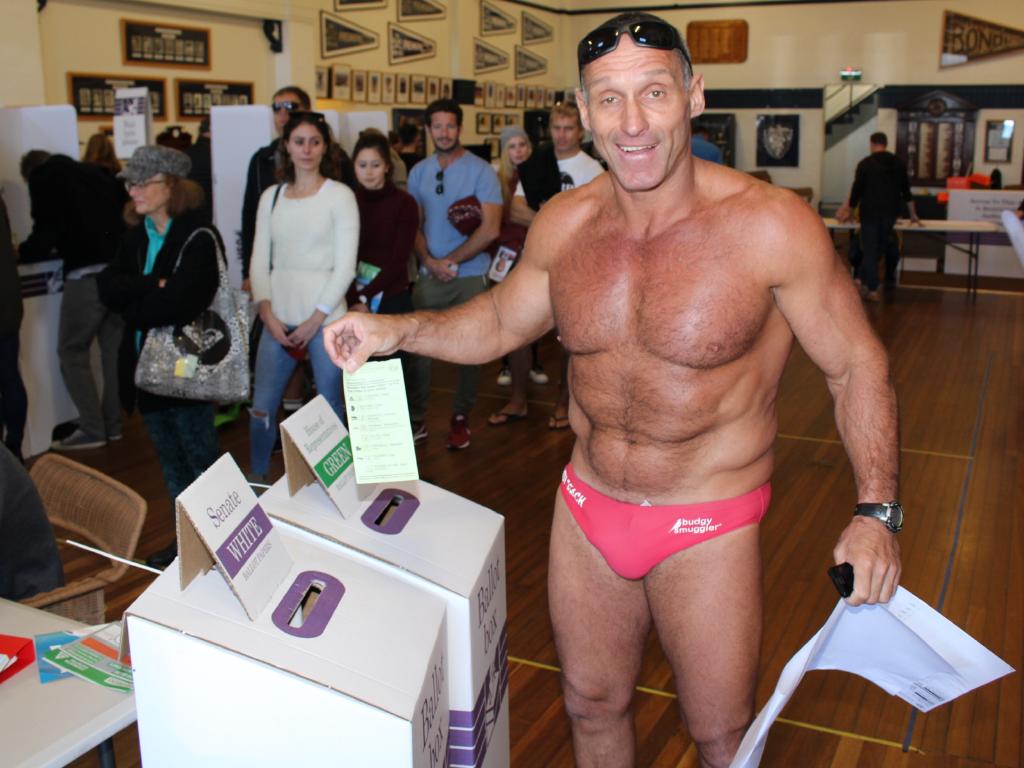 Voting fashion took many forms across the country.
W is for Web updates
The AEC's voting tally continues to update every few minutes.
X is for Xenophon
Not quite sure who the Xenophon team are? Read more about Rebekha Sharkie, who won the SA seat of Mayo here.
Y is for Youth Vote
87% of 18-24 year olds enrolled to vote in this election, which is the highest percentage in Australia's history. Well done team.
Z is for Zero
Zero being the percentage of certainty we have when trying to predict the results of the election.