As you might've seen with our ode to Jayden Smith last week, we're into paying credit to young celebrities who are having a crack at having a positive impact on the world.
One of said celebs is our queen and master, Ellen Page.
If you've seen EP around and have an inkling that she's up to good things, you're pretty spot on. Here are some of her pearler moments that make us love her:
1. That time she made the Gaycation VICE doco series with her bestie Ian Daniel. Ellen and Ian travelled all over the world to investigate what life is like for LGBTIQ people in different countries and cultures.
2. That time Ellen and Drew Barrymore did a fun photoshoot for Whip It and talked about the importance of female friendship and kissed on the lips; check it out in Marie Claire.
3. That time she gave an honest and moving and bloody brave speech about her sexuality and how damaging it can be to experience discrimination and hate. This is one of our fav bits, what a GOOD HUMAN;
" If we took just five minutes to recognize each other's beauty instead of attacking each other for our differences—that's not hard, it's really an easier and better way to live. And ultimately, it saves lives. ….And I am here today because I am gay. And because maybe I can make a difference to help others have an easier and more hopeful time. Regardless, for me, I feel a personal obligation and a social responsibility. I also do it selfishly, because I'm tired of hiding. And I'm tired of lying by omission. I suffered for years because I was scared to be out. My spirit suffered, my mental health suffered, and my relationships suffered. And I'm standing here today, with all of you, on the other side of that pain."
4. That time she burst into our lives as Juno (she'd actually already done some pretty amazing stuff by then but it wasn't super high profile).
Lots of people have different views about the film and whether it presents the experiences of young pregnant women in a realistic/positive/feminist way, which is such a fair conversation. There's a lot going on there. But either way, at the time it was kinda great to see a young woman on the big screen with brains and heart and gumption.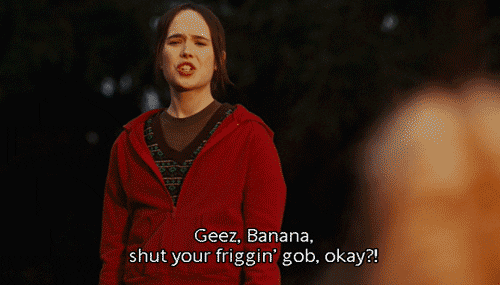 5. That time she played a badass environmentalist in The East.
Look, not gunna lie, it's not a light watch, it's actually pretty disturbing. We don't condone rogue/illegal/anarchist/dangerous responses to climate change and corporate greed, but I guess we respect the commitment to the cause.
ELLEN, YOU HAVE OUR HEARTS xx